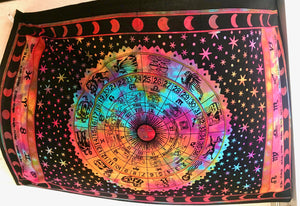 100% organic cotton made in India
Washable in the machine but on delicate wash
Dryer should be avoided
Measurements:
53" by 83" (inches)
135 cm by 210 cm (centimetres)
The sun is symbolic for many things.  Above all, life. The life of the sun is everlasting, providing life to everyone on Earth as well. Given this, it should rejuvenate and restore vitality. This ties to energy as well.
The most obvious one, positivity. The shining rays instantly uplift the mood of whatever it shines upon. Keeping a sun on you is said to make you out to be a happier person to everyone around (especially yourself!)
When the clouds shift out of the way, the sun is clearer than ever. It should attract clarity to your life and eradicate confusion.
The saying, "the sun in your hands" represents confidence and extroversion. Nothing provides more confidence and an outgoing nature than some good sunlight. This also applies to power.
Peace and direction can also be associated with the sun.
Around the sun are all 12 zodiacs, along with their names and symbols comes old-fashioned images that depict the signs. (Note: all of the symbols and names are not modern. They are not misspelled or mislabeled, they are just older models).